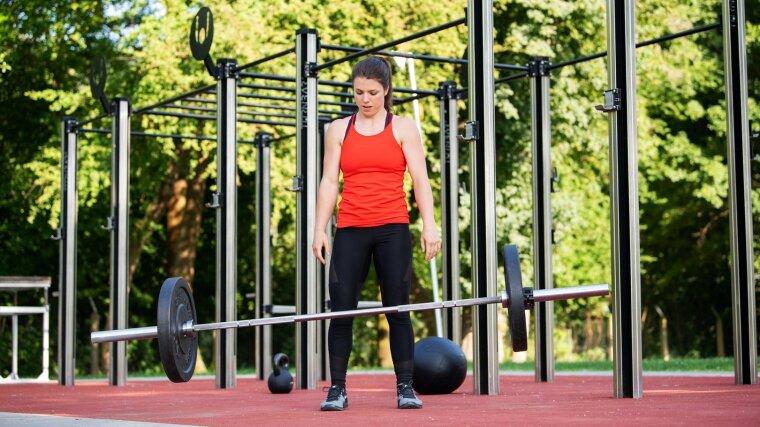 Fitness
So diverse, there's something for everyone!
Content
The fitness area includes the course offerings from group fitness and functional training, the two fitness areas including the saunas, and the two outdoor fitness facilities for calisthenics and cross training.
The group fitness area includes an extensive selection of varied group training offers. The courses are supported by the use of numerous small pieces of equipment and selected style- and fitness-specific music. The focus here is not only on the group experience with lots of fun, but also on high-quality and health-oriented training.
The functional training courses offer a wide range of indoor and outdoor classes with different objectives and using a variety of modern, fitness-specific training equipment. To make the courses varied, constantly changing exercises are used in circuit and station training, for example.
The two fitness areas are conceptually equipped differently and offer a wide range of training options. The fitness area in the USV sports hall (Seidelstraße 20a) is the larger of the two areas and, with its modern and comprehensive equipment and the possibility of trainer supervision, offers everything necessary for health-oriented strength and endurance training. The fitness area in the University Sports Center (Oberaue 1) offers professional training possibilities in its five rooms due to its equipment, both for cross training and weight lifting as well as for all other conceivable types of functional training.
Goals
Groupfitness
Our group fitness activities not only aim to be a fun group experience, but also a high-quality health-oriented workout. Numerous small pieces of equipment as well as selected style- and fitness-specific music are used to support the training. Music and power, movement and fun, team spirit and body awareness in the group by means of manifold hour profiles; group fitness is so diverse, there is something for everyone!
The goals of the workouts are endurance, agility, fitness, coordination and a general increase in performance.
Our offers in the area of Group FitnessExternal link
Functional Training
In our Functional Training courses, we pursue the goal of working the entire body. With the help of movements, muscle groups are trained instead of individual muscles. Even though this is in contrast to traditional strength training on equipment, we of course do not do without sports equipment. Depending on which course you book, not only the choice of training equipment varies, but also the objectives. The sports course can focus on both conditioning and strength training. In most cases, the training units offer a mixture of both types of stress – in any case, you'll be able to work out!
Other courses, in turn, have a preventive health aspect as a further target component and a selection of exercises and sports equipment adapted to this.
Our offers in the area of Functional TrainingExternal link

Fitness
The goals are as varied as our possibilities. Whether weight and fat reduction, muscle building, functional training or weightlifting, the indoor and outdoor areas offer all options to achieve your individual training goals. It doesn't matter if you're a beginner or have been training for a long time, the team of trainers in the fitness area at the USV sports hall will be happy to help you achieve your goals.
Jan Erbring - Fitness & Functional Training
USV Sporthalle
Siedelstraße 20a
07749 Jena
Opening hours:
nach Vereinbarung
Dr. Annett Bauer - Groupfitness